As adults, we sometimes forget that young people and children have a huge amount happening in their lives from figuring out who they are, experiencing loss and change, dealing with friendships, experiencing academic stress or bullying to entering romantic relationships. This International Youth Day, as well as celebrating the triumphs and brilliance of young people, we must also acknowledge their struggles.
Mental Health Issues Among Young People
Mental health issues among young people have been increasing over recent years.According to the HSE, depression is experienced by 1 in 4 young people below the age of 19. The My World Survey found that about 15% of young people suffering with depression reported their depression as being severe or very severe.
About 1 in 4 young people suffer with anxiety or anxiety disorders. Between the years of 2012 and 2019, the survey found that teenagers reporting severe or very severe anxiety increased from 11% to 22%.
The same survey also found that 24% of adolescents reported experiencing 3 or more stressful life events with 79% reporting at experiencing at least one stressful life event.
It is clear from these findings that mental health issues among young people are quite common and need talking about.
Tips for Coping with Mental Health Issues for Young people 
Talk to someone you trust – talking can help us work through things or let out how we are feeling. Visit one of turn2me's weekly support groups, or the thought catcher, its safe and anonymous place to talk.
Spend Time with Loved Ones – When we are feeling down, having some fun and spending time with the ones we love is so important.
Music – Listening to music can really affect our mood! When feeling low or anxious listen to upbeat, positive music to help boost your mood.
Focus on the Positive – Try to think about all the good things you have in your life, all the things you are grateful for.
Exercise – Moving and exercising is good for our physical bodies but also our mental health. Exercise releases happy hormones in our brains and makes us feel good.
Journal – It might sound odd, but writing down our thoughts and feelings can really help us figure out why we are feeling the way we are and it allows us to let go of certain emotions.  Turn2me's thought catcher lets you do this either privately to your own account, or publicly where other users can comment, empathize and support you.
Advice for Parents 
It is not easy watching your child experience mental health struggles but there is so much you can do to support them.
Talk to Your Child – Allow your child a space to share how they are feeling and to ask you questions. Listen to all they have to say without judgement, and accept their fears and anxieties as very real for them. Let them know that you are there for them regularly.
Just Ask – Make sure to check in with your children. Ask them how they are feeling or if they are struggling with anything. Show you care about how they are doing.
Be an Example – Children often copy things their parents do, so show them how to mind their well-being by looking after your own. Engage in self-care activities with your child, or talk about things that help you.
Supports – You can't be everything for your child and professionals may be able to help in ways you can't. Finding appropriate support for your child is really important. Make such professional support normal by talking about it so that your child doesn't feel embarrassed or different from their friends.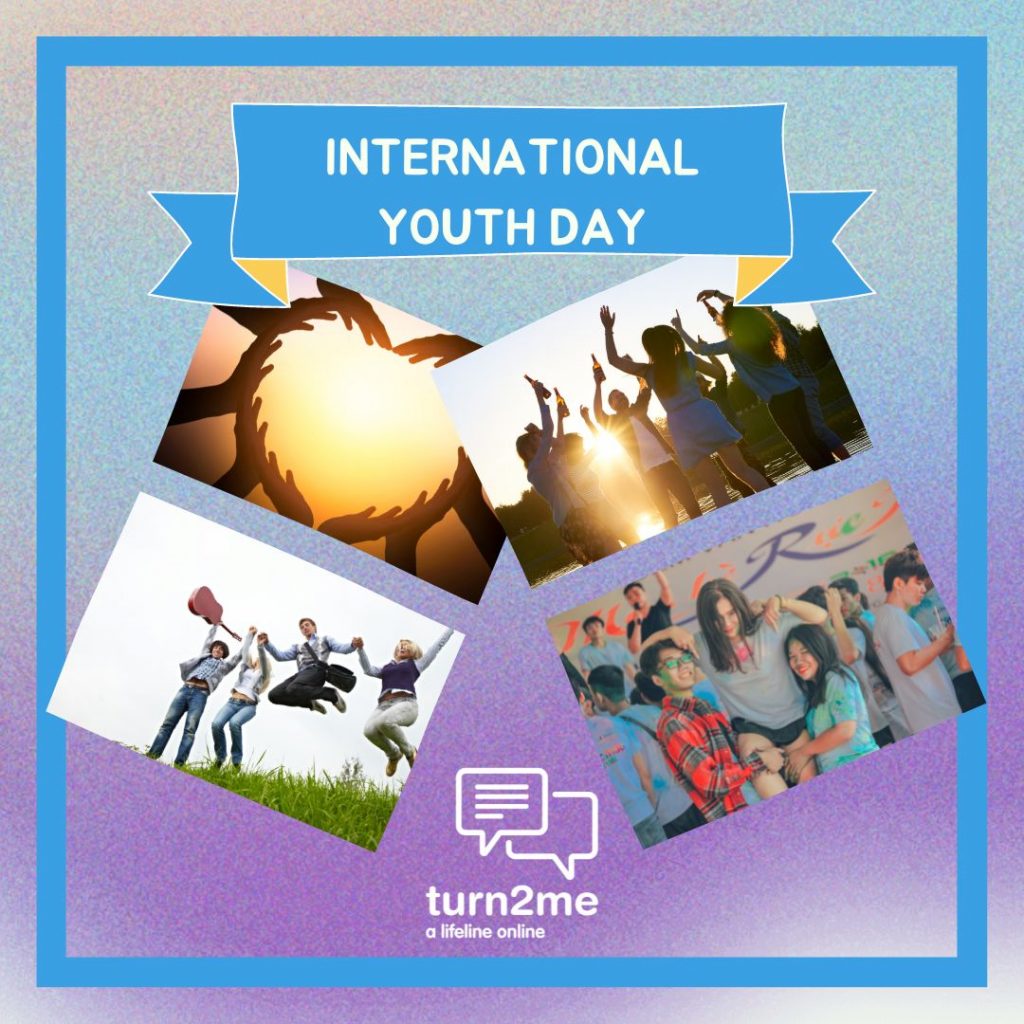 Supports for Young People 
Turn2me.ie – We provide free Peer support for young people aged 12 -17 years. Our Thought Catcher which is a safe, anonymous and moderated space for young people to post either privately or publicly about their thoughts and feelings while gaining support from their peers.
Samaritans – Young people can contact the Samaritans on 116 123 for free, to talk about their personal experiences.
Text 50808 – Young people can text 'HELLO' to 50808 for free to talk to someone.
Pieta House – Offers support to young people with suicidal thoughts or feelings. You can freephone 1800 247 247.
Childline – Young people struggling at home or with mental health problems can contact childline on 1800 66 66 66 for free.
BeLonG To – Provides young people with LGBTQ+ support. Their phone number is 01 670 6223. You can access their website here: www.belongto.org
Bodywhys – Provides support for young people struggling with body image and eating disorders. You can contact their helpline on (01) 2107906. Bodywhys also provides support groups for young people, www.bodywhys.ie
Jigsaw – Is a mental health service providing counselling and other supports to young people. You can access their website here: www.jigsaw.ie. Contacts – Email: info@jigsaw.ie Phone: 01 472 7010
SpunOut – Mental health supports and Information. Phone 01 675 3554 or Email hello@spunout.ie
Teenline (ISPCC) – Listening service for young people young than 18 years old. Helpline: 1800 833 634